By Joe Ray
PARIS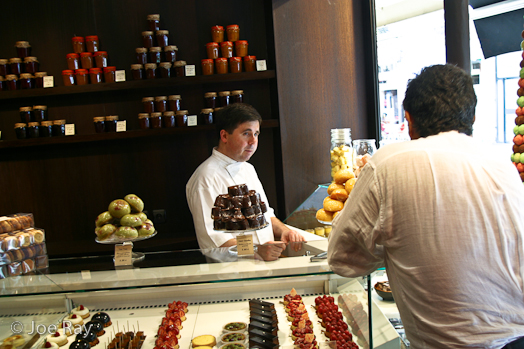 "Mmm… Almonds, fleur d'oranger, vanilla…" says Ari dissecting the Pain du Sucre confection I'm sharing.
"What else is in it?" asks her friend.
My only reply is a frenzied chewing sound, similar to the dining animals in "The Fantastic Mr. Fox."
Both friends have each ordered exactly one mint macaroon with chocolate (girls!) and they taste exactly like the mint that grew in our side yard when I was five.
Yesterday in the patisserie where we got them – Pain de Sucre, run by ex-Pierre Gagnaire partner/dynamic do Didier Mathray and Nathalie Robert – a woman, perhaps intoxicated by the beautiful fumes practically stampedes our threesome.
Today, on our return visit (Ari needed some more for her return to Barcelona), another woman snatches one of her macaroons from the box before the salesman can close the top, pretends to offer it to her infant and acts surprised when, ostensibly, the baby says 'no.'
The mom wolfs it down in one bite.
I can't blame her.
Pain de Sucre – MAP
14 rue Rambuteau
75003 Paris
http://www.patisseriepaindesucre.com/
Closed Tuesday & Wednesday
Click here to see my 2007 Boston Globe story on Pain du Sucre and other, emm, mold-breaking patisseries
Food and travel writer and photographer Joe Ray is the 2009 Lowell Thomas Travel Journalist of the Year and author of the blog Eating The Motherland. Twitter: @joe_diner.