By Joe Ray
BRUSSELS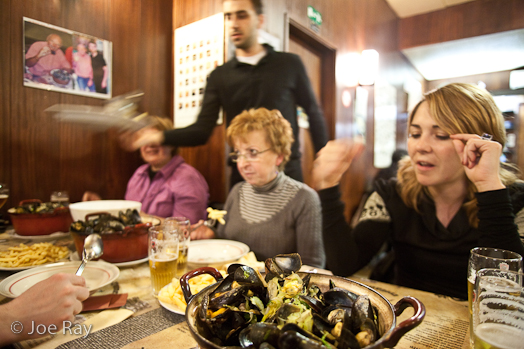 I love this kind of place: old, out of the way and authentic. La Bonne Humeur is a spiritual cousin to the American diner, right down the splotch of Formica worn white by the thousands of Dutch ovens and plates set in front of every seat.
What's cooking? Millions of mussels, a google of frites, too many Jupiler drafts to remember!
Here in the house of moules et frites, the offerings do not disappoint. The mussels are magnificent. What appears to be important is not which sauce (marinière? Green peppercorn?) but that you pause to spoon some of the buttery, fennel-y goodness up from the bottom and pour it over the top.
The fries, part of my five consecutive meal fry extravaganza, cause the group buffoon to shout "McDonalds!" when he first tastes them - which made me want to hit the dirt in case knives came flying from the kitchen … even if there's a grain of truth to it. 'McDonald's in heaven' is much more appropriate.
The clever can save money by ordering smaller numbers of bigger portions. Three larger portions - they are ordered by the kilo or kilo and half - are plenty for the five of us, buffoon included.
Count on about 30 euros and, as it's in a funny neighborhood and not too close to a Metro stop, take a cab. 
La Bonne Humeur - MAP
Chaussée de Louvain 244
Brussels
+32 02 230 71 69