By Joe Ray
BRUGES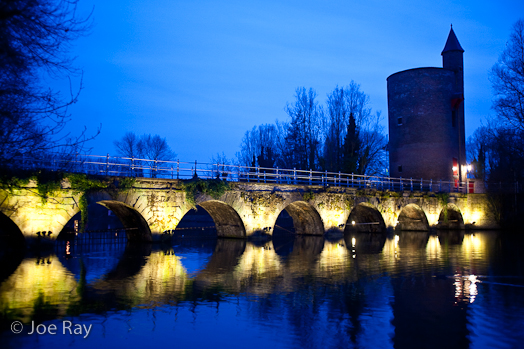 Finding good accommodations online is as fun as buying a plane ticket. In Bruges, where seemingly every other business is a hotel catering to the legions of tourists who descend on this place in the warmer months, it's particularly intimidating.

To avoid losing a day, I give myself 15 minutes and a budget, opening tabs left and right off of the helpful brugge.be Web site and doing a quick process of elimination. God bless the off season - I'm now two for two at finding great B&Bs in Belgium.

The full day we're at 't Koetshuis - the one you'd imagine spending all day wandering around one of Europe's most beautiful cities? Well, the little guest house has a bath, a patio that looks out onto a canal, a fireplace, a big couch and a huge selection of beer; we spend most of the day lolling around, not feeling like we're missing out at all.

I also like that it's a pair of professionals - two child psychologists - running the place. Clearly, they don't need to be doing this, but they're generous with their time and have plenty of good recommendations for where to go in town.

Next time I'm here, booking will consist of one phone call.

't Koetshuis MAP
Sulferbergstraat 38

Bruges
+32 (0)50/348.867
www.gastenkamer.be

One suggestion: go with friends or family: the guesthouse has two rooms upstairs and a the common room (with the fire and the kitchen) downstairs. If the other room was occupied by people you didn't know, I could imagine the lolling around part being a little awkward.

Follow me on Twitter: @joe_diner and on Facebook.