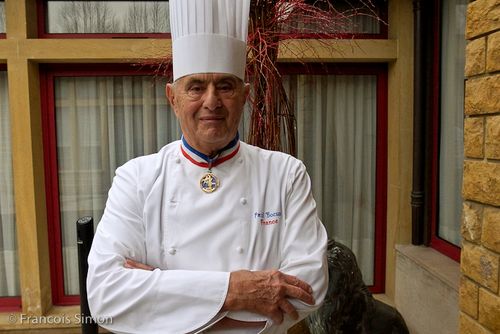 Paul Bocuse's restaurant, in Collonges-en-Mont-d'Or - (+33) 4.72.42.90.90; count on 120 euros - has something reminiscent of a fading France: a land of milk and honey, mischievous, kind and good-natured. Last Saturday, while the country shivered with cold, the dining room softly shimmered with warmth. An inimitable atmosphere, like an old Gabin film in black and white with foie gras and a damsel wearing back seam stockings. That said, Bocuse's restaurant is bursting with color. It's like an obsessive incantation against ossification and gloom, a phobia of emptiness and of all things dreary. All the gaps must be filled with color, like children do in a coloring book. Even the ceiling has something of a circus dome. From all sides, objects seem to call out to you, the way TV audiences used to back in the days. Even the salt and pepper shakers are adorned with a statue of the Commandatore. Paul Bocuse, monsieur Paul, arms folded over his chest.
Bocuse is our General De Gaulle of gastronomy. Our pope. He's going on 84, and still runs a very tight ship. As for the food? Well, you don't go to Bocuse's to sample dishes with your little finger up in the air, you come to feast upon France's history and nothing less! Admittedly, the Maine lobster salad (not from France's Maine et Loire, but from North America, which surprising coming from this defender of French tradition, whose pajamas we imagine edged in the colors of the flag) is a bit static with its mixed vegetables à la parisienne (it was posing); however the roasted pigeon that evening was better than good. It was first class and as easy to cut as a paper figurine with scissors. If the wine you've chosen is up to standards - I was alone with a half bottle of Côte Rôtie - the restaurant takes on a whole different resonance. The cardoon gratin is benevolent and the four desert tables end it all on a high note: mind-blowing vanilla ice cream (creamy-smooth like your beloved's kiss), the chocolate cake was a bit stiff with not much to say for itself (too cold, I imagine), a magnificent île flottane.
But Paul Bocuse's restaurant is grand when the customers have gone. A lot of local names, the bourgeois and their ladies, but also Lyon natives with their unique accent, their unctuously cocky humor. They are in the room with the fireplace, though those who want to be seen prefer the rotunda. It matters little, actually, they have all come to film memories, hang up a canvas in the corner of their minds, and hurtle down the disarming stairs of the "grande tradition classique" menus. As we know, no one lives forever and with Paul Bocuse, we are lucky enough to have a living century of good humor, of French cuisine at its most irresistible, undeniably dated (that's a good thing), sauceboat dishes… So what? Face it, in a decade we'll be hitting our foreheads and pronouncing that pathetic refrain: if only we'd known... So, get a move on and go grab a bite of our heritage. Dine at Bocuse's. You won't leave unmoved. Deliciously dated service and kindness orchestrated by François Pipala, who sums up the bliss of the place in his smile.
L'Auberge du Pont de Collonges - 40 Rue de la Plage - 69660 Collonges au Mont d'Or - Tél. : (33) 04 72 42 90 90 Web