PALAZZOLO ACREIDE, SICILY
By Joe Ray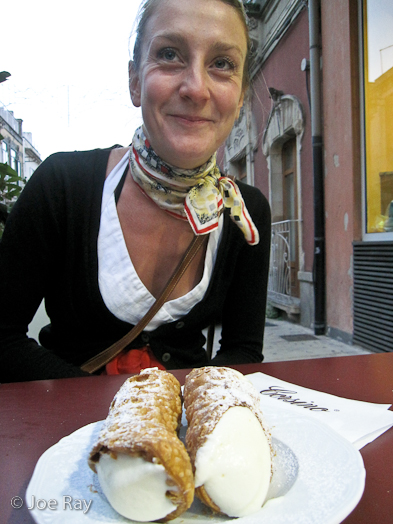 At the end of dinner at the anarchist's in Siracusa, I asked the woman at the counter - the anarchette??? - where to go in town for good cannoli.
"There's a fair one on the square, but if you really want a good one, you have to head up into the hills - to Palazzolo Acreide, but they'll be closed now. It's too late."
We went to the piazza and 'fair' in this case was more than enough. We're thrilled to be rediscovering the island, the architecture and the people. The Motherland.
The next day, Lex and I head to see winemaker Salvo Foti in Chiaramonte Gulfi, then head up and away into the hills and windmills, the sheep and the sunset. We start leaning vaguely toward home when a roadsign indicates "Palazzolo A."
"That's where the cannoli is!" I shout. I may have a memory like a sieve, but not when a town shares a name with one of my favorite Sicilian pastry chefs and gelato makers, Santi Palazzolo. 
Had I not turned, Lex might have staged a putsch.
Palazzolo Acreide is an off-the-track find, cannoli or no. We hop a fence to explore the ruins of a hilltop castle, then wander between the town's four gem-like churches. 
Everyone in town knows that Corsino is the place for cannoli and there's a bit of a momentary panic when it appears they're out of ricotta filling. My word.
Instead, we get two cannoli on one tiny plate and have a seat outside. They're wonderfully un-made-up - no chocolate bits, no candied fruit just the ricotta, just the shell and a dusting of powdered sugar - the Tilda Swinton of cannoli.
The filling's perfect - the silky texture contrasting with the punch of good ricotta. Lexy may have had a life-changing experience at Bonajauto but isn't above devouring this one. She does her little 'pure pleasure' gesture, eyes closed, huge smile, head thrown back a little, clapping her wrists together. 
There we are again, grinning our way through another town. We sit on the stairs above the main square and watch a wedding party stroll by - photos of the bride and groom taken between the columns in the arcade of an old building.
In front of another church hidden up a set of stairs, Lex twirls and smiles. The moon comes up full and orange above the city. 
Corsino - MAP
Via Nazionale, 2
Palazzolo Acreide
+39 0931 875533
www.corsino.it
Food and travel writer and photographer Joe Ray is the 2009 Lowell Thomas Travel Journalist of the Year and author of the blog Eating The Motherland. Follow him on Facebook and on Twitter: @joe_diner.