By Joe Ray
Maine, USA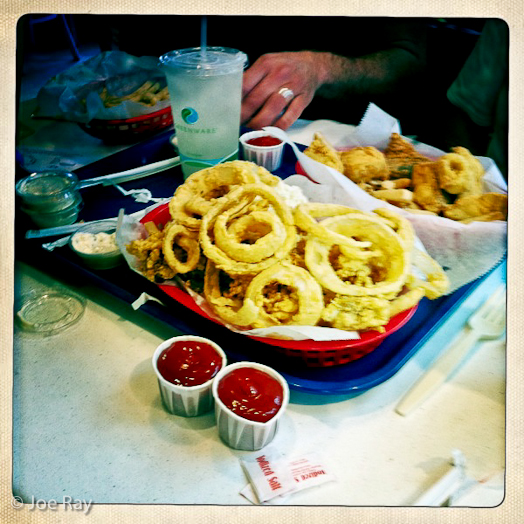 I met Hilary Nangle, a fellow Boston Globe freelancer, Maine specialist, skier extraordinaire, and all-around good egg, at a travel writer's conference last year. Late this summer, I sent her a pair of desperate notes:
ME:
Hi! Heading to maine w family for the afternoon. Got any snack/clam shack recs between Kittery and Ogunquit? Thanks!

This is a sort of abuse of a perk of the trade on my part, particularly when you note my timing. Yet within an hour I had a response…

HILARY:
Bob's Clam Hut, Route 1, Kittery, tops a lot of lists of the best fried clams. If you're craving Jamaican fare, there's a funky takeout spot on the inland side of Route 1, in Cape Neddick, north of York. Flo's Steamed Dogs have a legacy of their own (written about in both Gourmet and Saveur). It's also on Route 1 in Cape Neddick (ocean side, look for a reddish-brown roadside shack, open to 3 and not a minute later). Brown's Ice Cream, Nubble Rd, York, is wonderful, and if you want an old timey experience, stop by the Goldenrod in York Beach (makes taffy, fudge, ice cream). No culinary traveler should miss Stonewall Kitchen just off 95 on Route 1 in York (heading north, exit just before toll). In Ogunquit, Bread and Roses bakery always has wonderful treats.

We try as much as we can - Bob's is the bomb (see photo), the Jamaican joint was closed, Flo's was fantastic (they serve Moxie!), and Bread and Roses' coffee (Carpe Diem) does the trick in spades.

ME: My word, have I not even written back to say thanks? I'm such a dog. One last question - turns out we're coming up for a lobstah story Monday & Tuesday (post hurricane, I hope!) any Freeport-area places to stay?
Grazie!
Joe

HILARY:
Grin! Freeport, you can't beat the Harraseeket Inn (www.harraseeketinn.com, it's close to everything--steps from Bean's, outlets, shops, restaurants, and it has the best dining in Freeport (okay, new chef since I last went, so can't guarantee that, but innkeepers are committed to excellence and have deep Maine roots. Other good spots:
• White Cedar Inn, www.whitecedarinn.com (Where we ended up staying - Try the pancakes.)
• James Place Inn, www.jamesplaceinn.com Those are both downtown
• Just south of town, Casco Bay Inn: www.cascobayinn.com
And if all you want is a cheap sleep, try these tourist cabin:www.maineidyll.com

As for food, I prefer Day's Lobster, on Route 1 on the Freeport/Yarmouth town line. Nothing fancy, but there are picnic tables on the back lawn overlooking a tidal estuary. Other good spots in Freeport: Mediterranean Grill, Azure Cafe. H.

All this lady does is throw strikes! Follow Maine's self-proclaimed Travel Maven on Facebook.

Thank you, Hilary!