PARIS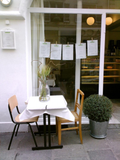 Here we sit not far from the Grands Boulevards of Paris, at an address worshipped by its regulars: Supernature. Know that giving you this address is like giving you a little piece of my hearts
It's a neighborly hole in the wall crammed with Formica tables. There are a few nature pics on the walls, including one of a woman with an admirable physique, which explains why so many patrons make a point of eating opposite from her.
Each dish is generously served and colorful. I ordered the plat du jour, a sort of veggie sampler with petulantly delicious vegetables, a small pancake served warm, enhanced with lentil sprouts and various mysterious jack-in-the-boxy spirals. Washed down with a carrot-ginger juice (then another), let me tell you that within 15 minutes, I felt like I was at Cape Canaveral, the rocket was warming up on its launching pad, and the fuses were blowing one after the other: look out here I come! Personally, that's all it takes to make me happy but you can also dive into the daily menu: tofu and vegetables, chocolate fondant cake, carrot cake… Gusto galore!
As for the prices? Frankly, 11 € for a dish that puts you back on the right track, 4,40 € for a magic potion and 2,10 € the espresso is reasonable, wouldn't you say?
Supernature, 12, rue de Trévise
Phone: +33 1 47 70 21 03. Menu 25€.  Map
Other restaurants in the 9th