PARIS
By Joe Ray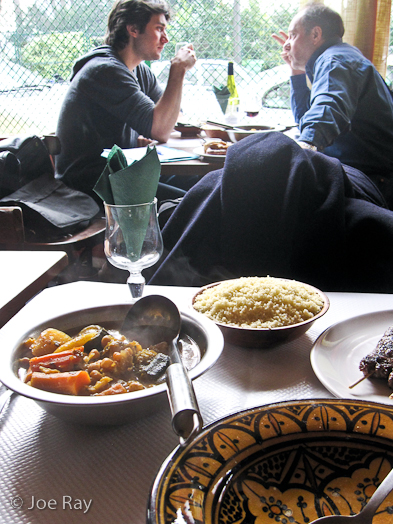 After days of weather misery, a break in the clouds at lunchtime created a rule dictated by deprivation: sit in the sun.
I got lucky.
In the lonely, hilly heart of the 20th, the locals-only set at Le Jardin includes artists, teachers, funky clothing designers and old friends playing hooky and catchup over a bottle of wine, all sitting on the warm side of the giant windows.
They've got the right idea. The plat du jour is nine euros on this day and couscous runs from nine to fifteen - the vegetable stew served with theirs is made pungent with cabbage and a meaty broth. I'd have been completely happy with this alone.
Downside? The pocket-sized kitchen gets overwhelmed by a table of six. Everyone waits, but if no one cares, is it a downside? We're sitting in the sun.
This isn't the stuff you cross town for, but it's worth an uphill walk if you're nearby. Count on 9-15 euros.
Le Jardin MAP
52, Rue de la Bidassoa
75020 Paris
+33 1 46 36 27 99
Food and travel writer and photographer Joe Ray is the author of the blog Eating The Motherland and contributes to The Boston Globe's travel blog, Globe-trotting.