AVILES, Spain
By Joe Ray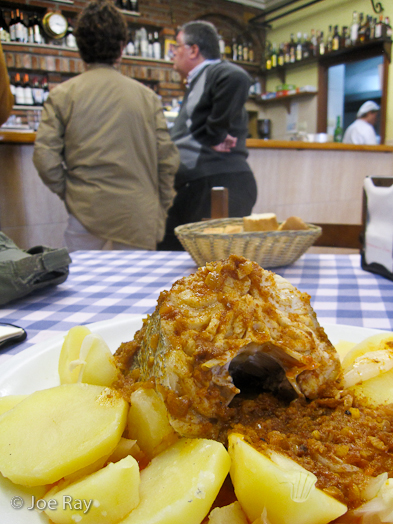 Three steps before I get to the restaurant that's been recommended to me, I walk in front of the place where I'll end up. I do my 'hesitate, peek inside at a place that has really good potential, look at them menu and salivate' thing.
Without prompting, a customer in front of La Botella looks me over, sees what's up and says "the food's better here."
Does anyone need more prodding than that?
Inside, there are all the right signs: a bunch of ruddy-faced white-bonneted women in the kitchen, a table of five grandmothers on a Sunday out, sawdust on the floor that a 10 year old uses to spell out the name of her crush with the tip of her shoe and the staff you want to adopt as your host family.
Cider - in this case sidra Peñon (currently celebrating their 100th birthday) - is poured by guys who look like they've been doing it for 100 years - eyes fixed not on the glass four feet below where they're pouring, but on some fixed point on the horizon...until they fix your gaze as they hand you your glass.
This isn't expensive stuff - 2,30€ for a 75 cl bottle - but it's the kind of stuff where you take a sip and truly wonder how we can bother spending so much time drinking second-rate drinks.
I watch dishes go out - plump bits of octopus, tiny scallops in their shells and have a bit of buyer's remorse. Galician-style hake? What was I thinking?
Good things, apparently.
I will note the size of my cut of fish: every bit as large as my fist. My word, a Parisian chef would cut this in three pieces and sell it for more!
I will also note that my worries about having a fish with a sauce are unfounded. The hake would be a marvel on its own - bite-sized discs breaking off with just the right amount of fork pressure. The sauce - laden with paprika (but not too much) - is there if you want it, smoky and even slightly sweet goodness.
I'm sure it's fantastic, but did I miss the place next door? Not one bit.
Count on about 20€ per person.
Restaurante La Botella - MAP
C/ Emilie Robin 15
Aviles, Spain
+34 98 556 48 08
Food and travel writer and photographer Joe Ray is the 2009 Lowell Thomas Travel Journalist of the Year and author of the blog Eating The Motherland. Twitter: @joe_diner.