BARCELONA
By Joe Ray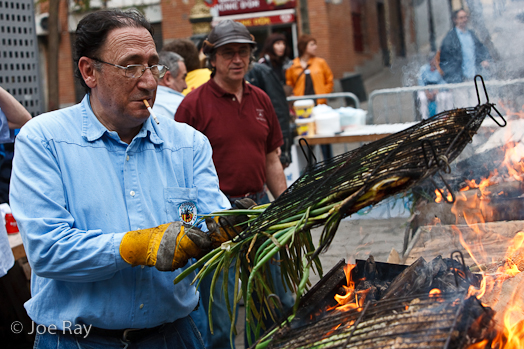 I met Toni this morning to learn salsa per calçots - the sauce for the celebrated spring onion that's barbecued into a coma for the masses, dipped into the romesco-like sauce and eaten by the dozens in wonderfully-sloppy sword swallower style.
Trying to get an invite into his kitchen to help, he was reluctant to have me over. "You're going to steal my secrets!" he bellowed.
When I get to his house, however, he asked if I was going to pull out my pen.
Around the kitchen, there are two hocks of jamón, at least three active bottles of wine, including one with the bottle neck cut off, a bag of bunyols - (seasonal Munchkin-like mini donut/fritters, often flavored with a bit of anise) and three different kinds of oranges.
For the sauce, he's got separate trays of roasted tomatoes, peppers, garlic and onion ready and once those are done, it's pretty simple.
"[The nearby Catalan towns of] Sitges and Villanova fight to see who makes the best," he claims.
For his entry, he throws the following into the blender in batches:
- the flesh of a rehydrated ñora pepper in the blender (substitute, if you must, a sweet, mild dried red pepper) 
- a dangling handful of roasted red peppers 
- one roasted onion, skinned and chopped into rough chunks
- 10 roasted tomatoes
- 5 cloves of roasted garlic
- 2 cloves raw, peeled garlic
- 1 cup almonds
- ⅓ cup hazelnuts
- ½ cup bread crumbs
- two shakes of pepper
- 1 cup olive oil
- 2 cups water
- ¾ cup red wine vinegar
- 1 ½ tbsp salt
Run the blender slow for 5-10 seconds then fast for about 20. The sauce should be thick and still slightly chunky.
Salsa per calçots is also fantastic for making xató (pronounced "chateau") - a salad made with curly endive, black olives tuna belly and/or bacalao.
*Admittedly, this is running a bit late, but, hey, I'm playing catchup after a month in India. Besides, if you're in a cool climate and have access to spring onions to grill…they'd be wonderful doused in this sauce…
Food and travel writer and photographer Joe Ray is the 2009 Lowell Thomas Travel Journalist of the Year and author of the blog Eating The Motherland. Twitter: @joe_diner.