By Joe Ray
BARCELONA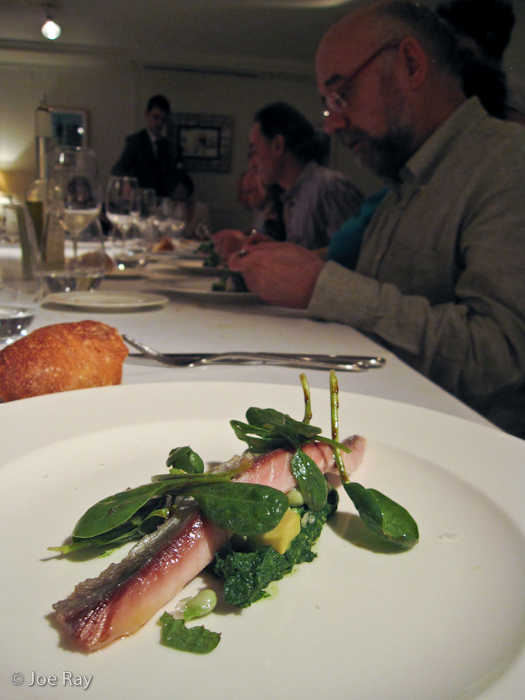 I always get stubborn when people suggest that I write about something, even on the rare occasion that it's a good idea. If I'm already working on it, don't push me in the way I'm already heading. Or, at least, that's how I justify it.
I recently shimmied my way into a Barcelona Slow Food dinner at Coure – Catalan for 'copper' another Barcelona bistronomic, located almost directly across the street from Hisop. The next day, the mails started coming in from my Slow Food friend – "you've gotta blog about this place."
I knew. I knew.
While I could see where Hisop was heading – but had trouble getting there – at Coure, even though I was at a table with 25 people, it's clear the chef's feet are more firmly on the right path. Coure is a restaurant confidently hitting the ball on the rise.
Case in point: a perfectly-cooked mackerel 'confit' served with spinach pesto dish that made my feet do their involuntary 'happy dance,' particularly as the dish centered around local and sustainable products. The chef fought an uphill battle against starch with puréed ratte potatoes that had a pudding-like sheen, but they supported a buttery-textured oxtail stuffed with local Perol sausage. We drooled with happiness.
When my Catalan sweetheart visits me in Paris, she always marvels at how poor the service is relative to the price paid and I do my best to defend France, but here there's no refuting – I know, I know – you'd have to pay two to three times this much in the City of Light for service this good. Our waiter shyly rushes through the presentation of a dish he's been asked to do, but the moment he's finished speaking, he takes advantage of being in front to everyone to scan every seat at the table and instantly knows better where we are than we do.
Bonus? The price – a 35 euro prix fixe dinner menu that includes water, wine (including the fantastic Vinya d'Irto Terra Alta '05) and coffee. There's also a 45 euro degustation menu and à la carte runs about 50-60 euros plus wine. 
Restaurant Coure MAP
Passatge Marimon, 20
Barcelona
+34 93 200 75 32
Food and travel writer and photographer Joe Ray is the author of the blog Eating The Motherland and contributes to The Boston Globe's travel blog, Globe-trotting.