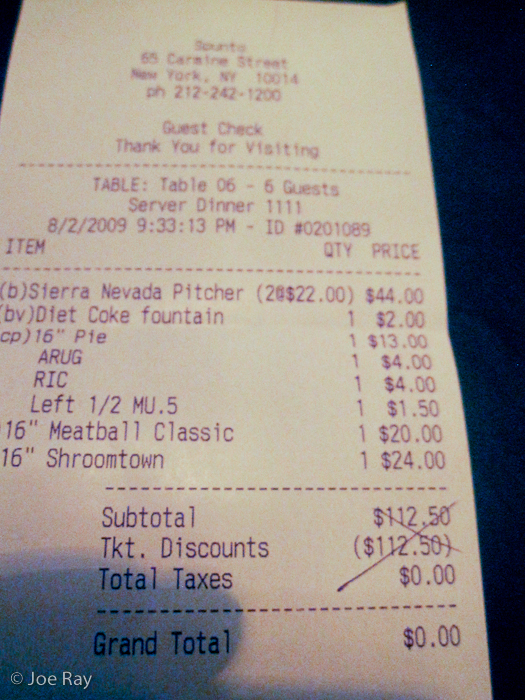 By Joe Ray
NEW YORK CITY
Alystyre had been wearing her brand new, straight-from-Barcelona pink espadrilles for about an hour when the waiter launched a pizza onto them.
You'd think it would happen in slow motion: the pizza wobbling back and forth in the waiter's hand and both of them wide-eyed for the impending disaster. Instead, it was over in a flash with the pie on her shoes.
Spunto's staff handled it perfectly. The manager whisked Alystyre away, dabbing her duds with a towel soaked in mineral water for a good 20 minutes. In the meantime, they sent a new pitcher of beer over to our table of six.
The pizza, particularly the thin-crusted mushroom version, laced with a judicious splash of truffle oil (something I don't usually go in for) was the best we had while in the city, easily trumping the Lombardi's we had on another night.
The bill, which included three pizzas, two pitchers of beer and a Coke had a big "X" through it. Normally, it would cost about $20 per person. Our total: $0.
We left a big tip.
Spunto - MAP
65 Carmine St.
New York
www.spuntothincrust.com
+1 212 242 1200

La Manual Alpargatera Espadrilles - MAP
C/. Avinyó, 7 - 08002 Barcelona
Tel. 93 3010172
www.lamanualalpargatera.com
Food and travel writer and photographer Joe Ray is the author of the blog Eating The Motherland and contributes to The Boston Globe's travel blog, Globe-trotting.