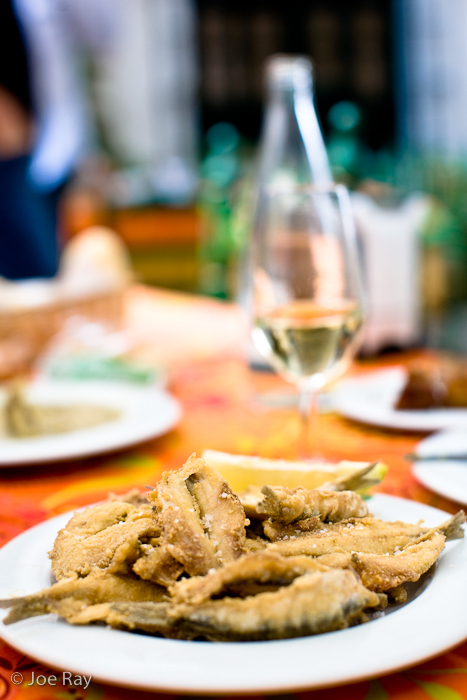 JEREZ, Spain
By Joe Ray

It's a wonderful feeling to know you'll need to come back to a place before you sit down.
Eyes wide and fresh from the plane, we head to Bar Juanito for a crash course of a menu of the good and the local.

We try langoustines and mushrooms in a deep, sherry-laced sauce with bits of shell that give away some of its secrets. Then we dig into a little plate of fried fresh anchovies that, matched with a glass of the salty counterpart-loving fino wine, was toe-tapping goodness.
The bar's signature artichokes slip by unnoticed - our fault for trying them offseason - but the showstopper is an Andalusian native that arrives with our drinks for free: chicharonnes - bite-sized cubes of pork which are like bits of crispy, fatty pork roast from heaven. My friend who's on a diet takes one look and groans. I pop another and my heart skips a beat.
Count on 5-15 euros, depending on how peckish you're feeling.

Bar Juanito MAP
C/ Pescadería Vieja 8-10
11403 Jerez De La Frontera, Spain
956 33 48 38
bar-juanito.com

Food and travel writer and photographer Joe Ray is the author of the blog Eating The Motherland and contributes to The Boston Globe's travel blog, Globe-trotting.