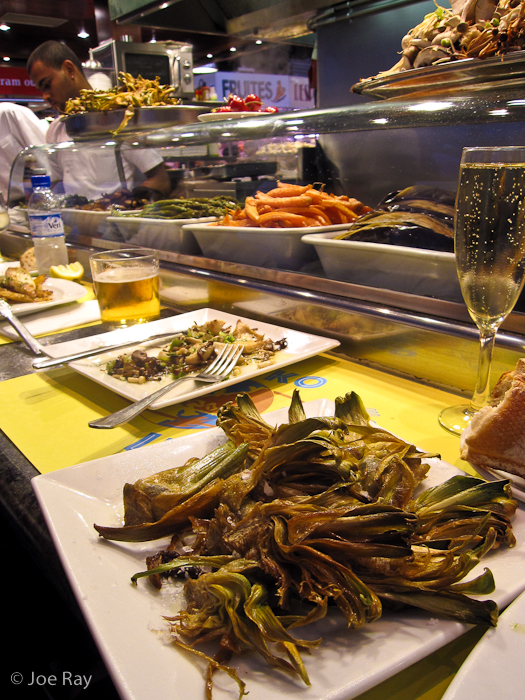 BARCELONA





When I die, I'm sending friends to scatter my ashes in a couple of my favorite places around the world. Barcelona's La Boqueria food market will be one of those spots.





I've said it before: I'd trade a meal at the market's Pinotxo food 'kiosk' for many a three-star meal in a heartbeat. The world hums at a happier frequency whenever I'm there.





That said, I'll make sure they keep my ashes on Pinotxo's side of the market when the time comes.





We checked out Kiosko Universal a while back and though it felt a bit like I was dining with the enemy, a friend had sung its praises and I wanted to see for myself.





One of the wonderful things about the kiosks is how it's all there for you to see. You sit at the bar and watch the cooks cook up the best the market has to offer.  Look left - there's someone selling fish! Look right - there's someone cooking fish! There's flash and bang and life everywhere and there you are in the middle of it all with a glass of Cava to celebrate. If you can't draw inspiration from a space like this, check your pulse.





You also see when it all goes wrong.





At Kiosko Universal, we ordered Cava and immediately watched somebody's fresh-cooked lunch get cold on the counter for five minutes before being delivered once a cook finally remembered it. Then we watched a cook work on our mushrooms by sautéing a big batch in a wok. It's a great idea: blast something fresh with heat and serve it up quick, but there simple rules to sautéing that should be observed, most notably, as a chef once barked at me, "Hot pan. Hot oil." Heat the pan, then heat the oil and then (and only then) add whatever you're cooking. Flub up and need more oil? Send a trickle down the side of the pan so it heats up before it hits your food.





Cold oil on cold product leads to mush.





Here, however, we watch the cook pour an extra dose of cooking oil right on the mushrooms.





The cook looks bad, the chef looks worse and we lose our appetite…

…almost. We repent with coffee and dessert at Pinotxo.

Kiosko Universal - MAP

La Boqueria

La Rambla 91
08002 Barcelona
93 317 82 86

Count on about 10-20 euros.

Food and travel writer and photographer Joe Ray is the author of the blog Eating The Motherland and contributes to The Boston Globe's travel blog, Globe-trotting.