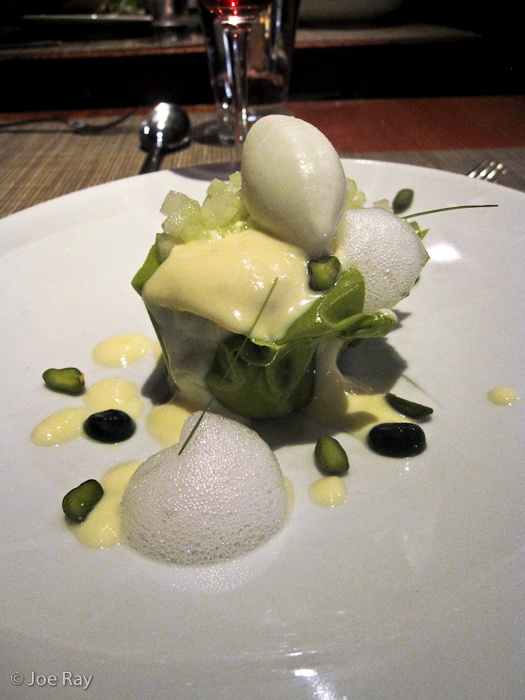 MANHATTAN
By Joe Ray
There's a lot to notice when we arrive at WD-50. The most outstanding is a booth of guys who look like they could be fraternity brothers, yet they're silent as monks, paying close attention to what they're eating; the antennae are up, they love the challenge.
You have to be up for the ride. Chef Wylie Dufresne bristles at the thought of preparing anything leaning toward making standard bistro fare for his customers. He's just not interested.
What would he rather do? Stuff like floating plump scallops and pine needle udon in a bowl of grapefruit dashi. He deconstructs eggs benedict. He chars avocado. (?!?!) Even if his family is in the business you have to wonder how he thinks of this stuff, but when you put bites in your mouth, the combinations and preparations will stand hairs on end and leave you wondering how no one thought of it before.
Daniel Boulud's kitchen at Daniel has a beautiful wall of spices sourced from around the world while Dufrene's wall has pectins, starches and syrups. Yet the adjectives Dufresne cuisine inspires are words like 'clean' and 'clear' – you leave feeling like you've eaten a healthy Japanese dinner. His parsnip tart somehow makes me rethink my understanding of the vegetable. Parsnips!
Some argue the validity of this type of experimental cuisine - they should eat here to join the converted.
Finally, all hail Dufresne for having the confidence to keep and highlight the work of pastry chef Alex Stupak. Instead of a clash of egos (that would usually lead to the latter getting dumped), you just sit there and say 'wow' all meal long.
Count on about $65 plus drinks if you go à la carte. The tasting menu runs $140 plus $75 for wine pairing.
WD-50 – MAP
50 Clinton Street
New York
+1-212-477-2900
www.wd-50.com
Full disclosure: I ate at the restaurant while working on an upcoming story about Dufresne and his collaboration with chef Daniel Boulud. That said, Dufresne didn't realize we were in the restaurant for dinner until dessert was over and the check was paid.
Food and travel writer and photographer Joe Ray is the author of the blog Eating The Motherland and contributes to The Boston Globe's travel blog, Globe-trotting.