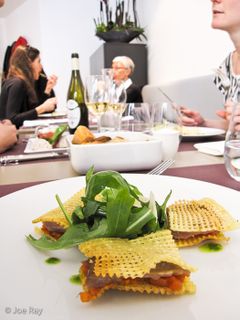 Paris,
By Joe Ray
Get there before it's overrun with ministers.
Maybe because it's brand new and hasn't been discovered yet. Maybe it's because it was a vacation week or just a slow day, but four of us had Le 122, smack in the heart of ministry central to ourselves.
Instead of that depressing, feel bad for the owners, 'why are we whispering?' feeling, it was perfect. The chef and his wife came over to talk once in a while and the waiter nosed in with an off the cuff crack that had huge crash and burn potential, but instead, he had read us perfectly.
Chef's pedigree shows in his fish dishes like a toothy and full of flavor smoked sardine and anise-tomato marmelade appetizer and a cod pissaladière – a Provencal pizza cousin, this one doing a wonderful job of respecting the fish.
We share a Coteaux du Vendomois that Chef calls his wine of the month. It's made by a friend of his and so good and well-priced, I hope everything on the wine list is made by his friends.
Dessert? Strawberries with a tea foam that sits in a glass bowl and looks like a floating flower.
A friend was supposed to leave early, instead, she asked for another spoon.
Le 122 : 122 rue de Grenelle 75007 Paris Map

Food and travel writer and photographer Joe Ray is the author of the blog Eating The Motherland and contributes to The Boston Globe's travel blog, Globe-trotting.