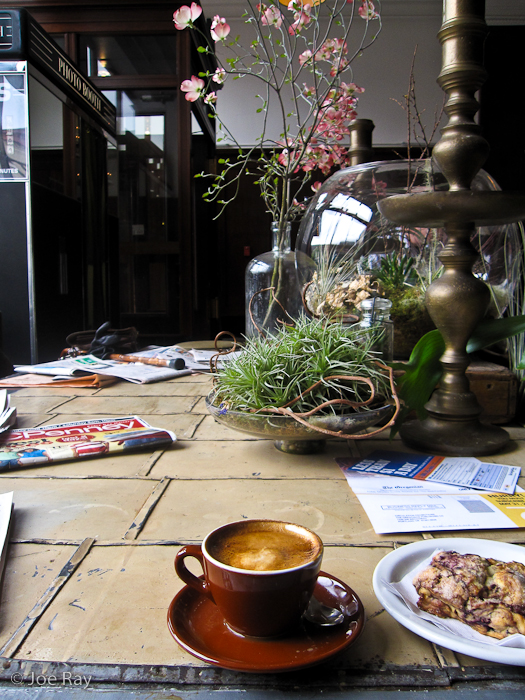 By Joe Ray

Portland, OR

"What's that cool hotel you were telling me about in Portland?" I asked a buddy.

He couldn't remember. Or I was asking the wrong buddy.

I typed 'portland oregon hip hotel' into Google and there it was – the Ace Hotel.

My reasons for loving it? Along with the high, ceilings and a clean modern-meets-old-school-cool design, there's a Stumptown Coffee connected to the lobby. There's also a snack tray in every room with the beautifully-labeled Lurisia fizzy water and next to it, Dutch stroopwaffels – my favorite cookie to have with coffee. I love the idea that, instead of throwing some Lay's and Kit Kat bars in there, somebody put the effort into sourcing some really good stuff.

Downside? The secret's out. Canadian families in North Face Jackets are mixing with the dressed-in-black (and talking loudly about their lives as composers and art directors) crowd. Sitting at the big lobby table the morning I'm there is a bossy chump who looks like an extra from "The Matrix" and his doomed, sweet-as-gold girlfriend.

There's also a grumpy kid who kicked a chair at me when I asked if anyone was sitting there.

"It's a free country," he added.

Until the coffee kicked in, I had fantasies of whapping them all with a rolled-up newspaper.

Ace Hotel Portland MAP
1022 SW Stark St
Portland, OR 97205
P: 503-228-2277
F: 503-228-2297
www.acehotel.com/portland


Food and travel writer and photographer Joe Ray is the author of the blog Eating The Motherland and contributes to The Boston Globe's travel blog, Globe-trotting.