Barcelona, Spain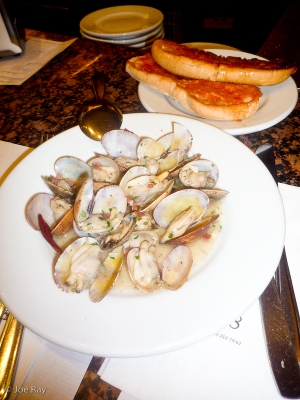 By Joe Ray
I'm being stalked by pork and shellfish.
Following cockles in meat sauce on the French island of Belle-Ile-en-Mer, fortune smiled on me again by mixing meat and bivalves, this time in Catalonia.
A few days ago at the Barcelona landmark restaurant, Cal Pep, I had tiny clams in white wine, parsley, garlic and … what was it???
Too thick to be olive oil, I asked chef, owner and landmark in his own right Pep Manubens if it was butter (an unlikely candidate in these parts) that gave the sauce such a wonderful texture.
He bristled, recovered, placed a hand on my shoulder and whispered his raspy voice into my half-deaf ear.
"It's the ham."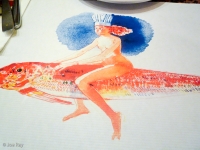 I smirked with pleasure as a larger understanding fluttered down; the little bits of the famous jamon iberico were indeed tasty, but what really contributed the flavor and texture that made me chortle with pleasure was the fat that surrounded the little bits of meat. Giving up the ghost on remaining a solid, the fat surrendered itself to heat and higher purpose, rendering a sauce custom-made to be mopped up with pa amb tomaquet – "tomato bread" rubbed with garlic and coated with olive oil. Yow. Yow. Yow.
Cal Pep – Placa de les Olles, 8 Barcelona - +34.93.3107961 Map

Food and travel writer and photographer Joe Ray is the author of the blog Eating The Motherland and contributes to The Boston Globe's travel blog, Globe-trotting.