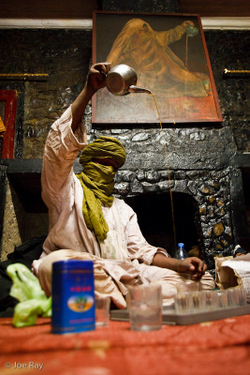 By Joe Ray 
How to make tea in the Sahara.
Brewing tips and desert wisdom shared by Abdoudaim Zounga, Touareg nomad.
The guy who does the tea does the tea. That's it. He tends to the fire and the tea. Everyone sits in a circle around him.
The tea is kept in a leather bag on his left.
Put one teacup of tea per person in the pot, plus a little more.
Use a little water to rinse off the leaves, fill the pot and set it on the embers. No sugar yet! It'll caramelize!
Once it bubbles over twice, take it off the heat.
Pour the foam (not the liquid) into the teacups. The foam is good - imagine you're under a tree and a wind comes up – the sand stays on the foam!
Tea without foam is like a Touareg without a cheche (headscarf).
Pour the tea into an empty pot and from there, into a larger glass with lots of sugar, going back and forth between the two to completely mix the sugar into the tea.
Pour the tea into teacups from a great height.
The best things are done by masters.
Refill the original pot (the one with the leaves) with water and put on the embers. Repeat for two more rounds of tea.
Everybody runs around all the time. Mom here, dad there, but when you drink tea, you stop. You're together.
Bonus: Abdou's Camel Wisdom Never have more than one male in a group. Otherwise, it's a battle to the death. When you make camel jerky, sometimes it's so good, you bite your fingers.
Food and travel writer and photographer Joe Ray is the author of the blog Eating The Motherland and contributes to The Boston Globe's travel blog, Globe-trotting.