Girona,
By Joe Ray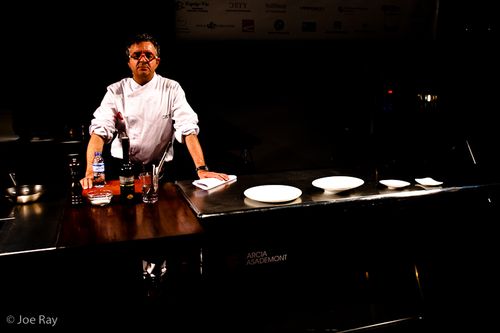 I can get caught up in the primordial pleasures of food – a caveman's instinct that can obscure technique, artistry and emotion. A freelancer's budget will also curb the reflex of heading to a fancy restaurant in a hurry, but Mauro Uliassi who runs his two-star restaurant Uliassi in Senigallia, Italy and is the consulting chef for the brand-new Domani in Hong Kong, helped glue the pieces together the other day at the Forum Girona food show.
I originally met Uliassi in Paris where he was showing off a dish called cuttlefish carbonara - shaved ribbons of al dente cuttlefish, cooked sous vide, topped with oven-crisped pancetta and Cryovacked egg yolk – a well thought-out and perfectly executed dish that made a clever wink at the classics.
To bridge the gap between food as fuel and food as inspiration, however, the Italian chef talks about sex.
"There's a huge parallel between food and sex. If you don't eat, you die. If you don't make love, there aren't more people," he says, with a blunt and curious blend of math and biology, "but when you get past that, eroticism and food are pleasure."
"If we're just hungry, I take a pig, cut it in half, stick it on a fire and eat it with my hands," he continues, appealing to the primal needs while augmenting with a bit of spectacle, "but evolved cultures eat for pleasure.
When you eat, you must 'ooh!' and 'ahh!' - it's very important. Musicians have guitars, painters have canvases. Food is a way for me to show enthusiasm for life."
Ristorante Uliassi - www.uliassi.it
Ristorante Domani - www.domani.hk 
Food and travel writer and photographer Joe Ray is the author of the blog Eating The Motherland and contributes to The Boston Globe's travel blog, Globe-trotting.