By Mara Grimm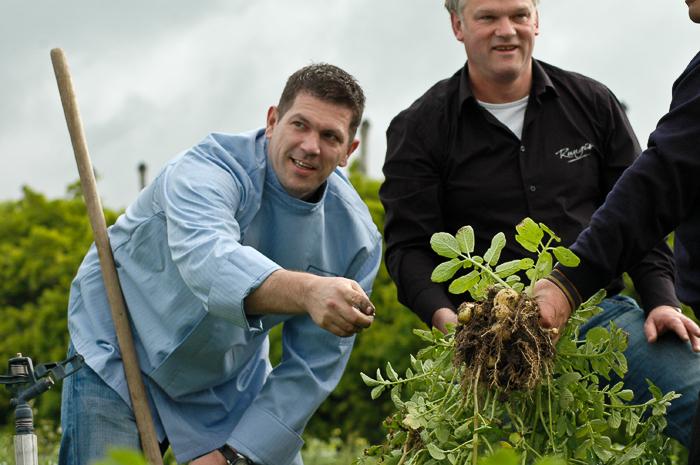 After working for seven years as a food editor, hardly any restaurant bill surprises me anymore.
But when I heard somebody paid 500 euros for a kilogram of potatoes I was in complete shock. And in desperate need of a taste. The miniature potato La Bonnotte is number 5 on the list of 'the most expensive foods in the world', next to saffron, truffle and caviar. It is cultivated exclusively on the Isle of Noirmoutier, where seaweed is added to the soil in which it's grown. The result is a potato with a complex flavor that includes hints of lemon, earth and, of course, the sea. To make La Bonnotte even more exotic, it's available only from May 1st to May 10th, and the local farmers produce not more then 20,000 kilos annually.
This explains the ridiculous pricing (actually the €500 turned out to be a one-time amount; at a local delicacy shop you can expect to pay around €70 per kilo), and why La Bonnotte hardly ever leaves France. So is all this just smart marketing or is this really the most special potato in the world? Dutch chef Jos de Groot of Rotterdam's newest high-end restaurant VIS was so intrigued by La Bonnotte that he drove all the way to Noirmoutier to get some and then invited me for a four course press lunch. Jos served La Bonnotte as chips with a seaweed mayonnaise as an amuse bouche. Then he roasted them and topped them with vongole, crème fraîche and caviar. He also turned La Bonnotte into a delicate mousseline that paired well with super fresh coquilles, asparagus and lemon mayonnaise.
But my personal favorite was a dish with a fondant of La Bonnotte combined with lobster, sea fennel and the Italian sausage stolghino di culatello: an elegant dish in which both land and sea were in perfect harmony. And that's exactly what La Bonnotte is all about.
You can try La Bonnotte until May 15th in French top restaurants and in The Netherlands at De Librije (*** Zwolle), Le Ciel Blue (**Amsterdam),'t Brouwerskolkje (**Overveen), De Bokkedoorns (** Overveen) and Savelberg (* Voorburg).
Mara Grimm is the editor of  Holland's biggest restaurant guide: Lekker. She also writes about new restaurants, shops and culinary trends in Delicious Magazine and has a monthly column on kids and food.