Red Hook, Brooklyn.
By Joe Ray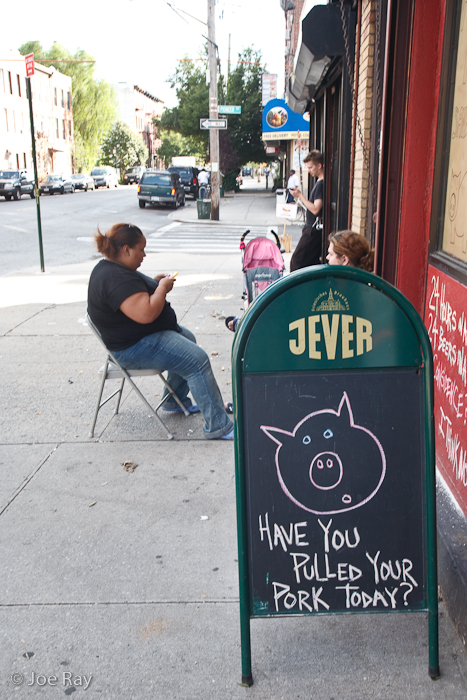 I was late for an interview at Fort Defiance.
I took the subway. I took a bus. I ran.
I was also hungry.
While I was running, I passed the Brooklyn Ice House and it was about that time when I smelled the barbecue.
The owner was sitting on a bench out front with some friends and I asked if I could get a quick pulled pork sandwich. Truthfully, the three of them looked so relaxed and friendly, I just wanted to sit with them for an hour.
The owner brought me inside - fantastic and saloon-like, a bar and a place to hang out. I watched a father and daughter sitting at in the corner, playing Rock'Em Sock'Em Robots.
My favorite part? At a serious beer bar, I asked what the owner would recommend to go with my sandwich.
"PBR"
Pabst Blue Ribbon.
She could have said something that cost twice as much - and I would have enjoyed it - but for a guy who's running late and might not have a ton of time to appreciate what he's eating, she stuck with something good. And cheap. My whole mini-meal cost $7. Woohoo!
Good thing she didn't ask me to marry her.
Brooklyn Ice House - MAP
318 Van Brunt Street
Brooklyn
+1 (718) 222 1865
Food and travel writer and photographer Joe Ray is the author of the blog Eating The Motherland and contributes to The Boston Globe's travel blog, Globe-trotting.