By Joe Ray
OLOT, Spain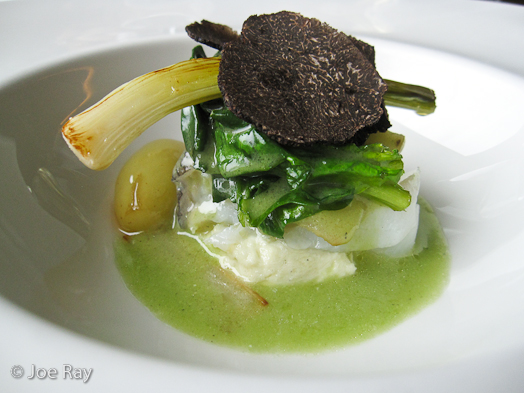 The first thing you notice on a tour of the kitchen at Les Cols is that there's a water garden fed from the heavens in the middle of it. This makes sense. An ardent but not annoying locavore, chef Fina Puigdevall is intent on building your relationship to the ground beneath your feet - this volcanic area where she was born.
She immediately shines spotlights on local ingredients - buckwheat, cured sausage from Olot, wild mushrooms, the cabbage that gives the restaurant its name and even wonderfully fragrant black truffles. One dish features an egg from the black chickens running around outside the window.
The clever thief would begin by swiping Puigdevall's purveyor list;  in retrospect, what's odd is that there's no standout dish, nothing so wildly good that it makes you want to do cartwheels between the tables, yet hers is is food with roots. These are deep and wild flavors, strength pulled up from the soil - a geothermal cuisine. 
Puigdevall is like a wayward member of Rene Redzepi's New Nordic cuisine gang - you half-expect to find Sigur Ros jamming in the henhouse.
You spend a bit of time like this, thinking of where she fits into the scheme of things - some say she's the next Carme Ruscalleda but you quickly realize their styles don't match, give up the ghost and start enjoying things. 
There is pea soup - a bright and happy green canvas supporting tiny cubes of balsamic, a micro-scoop of peanut ice cream, a bright yellow dollop of saffron sauce and a deep orange sea urchin. Squint from above and it looks like abstract art made with a set of Crayolas.
'Pumpkin in five different ways' has similar beauty, showcasing an ingredient that deserves the attention. Tendrils might grow from our fingers, roots from our feet. 
In another dish, salt cod floats on brandade, those under spinach and chard everything heating the truffle (see above). You stare, you smell, you think, you hesitate to destroy it with a fork, then you smile. The beauty in the presentation of these dishes is subtle when looked at individually and breathtaking when considered together. 
Equally as sublime is the space.
Using iron, glass and stone, the design of this restaurant hits what they missed at Can Fabes. While spots inside Santi Santamaria's nearby restaurant can feel like the inside of a tank, Puigdevall clearly spent a long time talking to an architect who listened.
The sliding and pivoting glass doors and arches make the chef's 13th century home modern and the main dining room are set slightly into the earth, so your eyes are level with the grass. We're here on one of those winter days where you look at a picture of the backyard in summertime and it's so green it might as well be another planet, yet even in winter, that subtle shift makes you notice shoots and buds you wouldn't have seen otherwise. 
When your gaze extends upward, it might linger on clouds clinging to the hills or you might spend two minutes watching a drop of water work its way down the giant window. On any other date, this much time spent gazing outside would signal disaster. Here, you're simply taking time to reconnect to the world around you.
The hotel rooms here are minimalist glass and metal cubes and I would love to return and spend the whole afternoon - post lunch - in the bathtub with a bottle of wine watching the clouds stick to the hills and contemplating the meal I just ate.
Service is well done, without hovering, and low key. Bravo for the bravery to offer a cart full of very worthy Catalan cheeses. 
A tasting menu is 70 euros plus wine.
Les Cols – MAP
Carretera de la Canya
Olot, Spain
+34 97 226 9209
www.lescols.com
Food and travel writer and photographer Joe Ray is the author of the blog Eating The Motherland and contributes to The Boston Globe's travel blog, Globe-trotting.