By Joe Ray
PARIS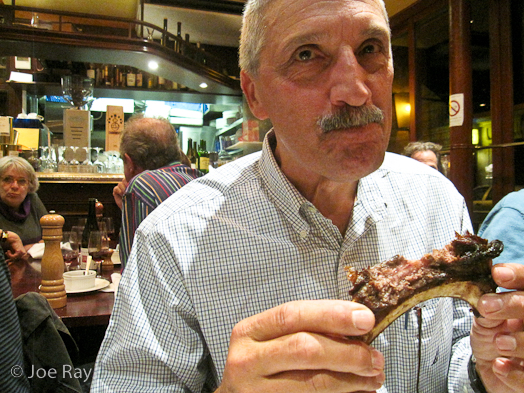 I'll begin with the closer; sometimes I talk about a meal having 'momentum,' something that gets better and better with every bite making you want more. Le Severo served a meal's worth.
I'd wanted to come here since I first walked by years ago when I lived on place Denfert-Rochereau. The chalkboard wall full of good wines and the short menu had a wonderful 'serious food' air that tripped my radar.

The hard-working waiter speeds around the floor by himself. He also happens to be the owner, a former butcher and a man who knows how to age meat, which he does for 40 days in the space beneath the dining room.

Did I mention he can carry three wine bottles in one hand and though very busy, is unfailingly polite and patient with my table of nine?

On this night, we order appetizers, passing them around to share. When cep mushrooms, seared in generous quantities of butter make it to Mom, she takes one bite and commands, "Order another plate."

There's also a meatier-than-most blood sausage served without casing and cooked crispy on the outside, melting within. Mom immediately declares one of the best she's ever eaten.

I mention this to the owner and he blushes.

After this, we pass to the serious meat. Just before taking our order, the owner declares that all meat will be cooked rare, fanning his arms out over the table. I mention that Mom prefers her meat on the done side and he blushes again, then caves to her wishes.

Dad and Jim get a côte de boeuf with intense marbling served blissfully rare and accompanied by fries that would make a Belgian proud. Jim gnaws on the bone, smiling the whole time and Dad's got that "ooh, baby, baby" look on his face.

At the end of the night, the owner's got time to come by and talk about his food – he's wonderfully proud of it, rightfully so.

Momentum, indeed.

Count on 40-50€.

Le Severo – MAP
8 rue des Plantes
Paris
+33 (0)1.40.44.73.09
Food and travel writer and photographer Joe Ray is the 2009 Lowell Thomas Travel Journalist of the Year and author of the blog Eating The Motherland. Follow him on Facebook and on Twitter: @joe_diner.