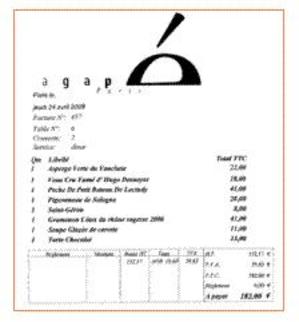 Paris, France
It's not easy to make a name for oneself when opening a restaurant. The rarefied world of « gastronomy » stands in the way.  At every turn, there are about a hundred people in Paris that prevent you from taking your place at the table.  How to force one's way through the crowd of the already-tenured blocking the gate?
Sneak in on your hands and knees? Create a diversion? Wear a disguise ?  Marry a food critic? Or why not open a restaurant on rue Jouffroy-d'Abbans. That's what three former employees of Passard just did – L'Agapé.
They offer excellent food, the kind that deserves a Michelin star. The asparagus with Colonnata's bacon is exquisite. The Sologne's pigeonneau (a small pigeon) is sumptuous. The ice cream with rosemary is delightful.  Everything is impeccable, but curiously we feel almost in the way. We let the torch march past without clapping too loudly. 
This restaurant is off to a great start. It's headed at full speed towards its destiny and at the same time has already made it, plain and simple, to the gastronomic "big show" – that world of criticism, accolades, food guides and chocolate medals. What's missing?  Life, of course! 
From 80 to 100 euros. Menus at 39 euros for lunch.
L'Agapé - 51, rue Jouffroy D'Abbans (17ème) - Tel. : 01.42.27.20.18. Map
Open Monday - Friday, closed Saturdays and Sundays - Subway station : Wagram.