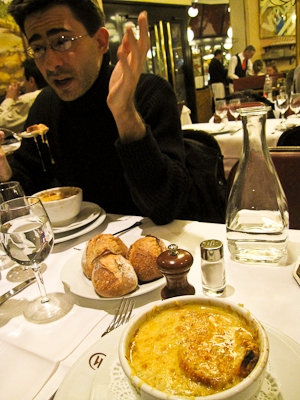 Put to the test on where to go in the neighborhood to fulfill a French onion soup quest, the team at La Cave à Jojo floundered.
"That's tricky around here," said Jojo, batting ideas around with clients at the bar, before smiling. "I've got it."
We walked back into the night, skirting the base of Montmartre and bringing our bodies down to the right temperature for soupe à l'oignon.
On the way to our table, a man alone ate oysters from a raised platter, following each with brown bread and sweet butter, then luxuriously washing it down with some white wine; we were in the right place.
I've known this – the one-man reward in a bistro - and seeing the man made me think of doing the same several years ago, filing a story at some ungodly hour and heading to Au Général Lafayette for pig knuckle, choucroute and beer. Similarly, every year when I get a new carte de séjour, I straight from the prefecture to the Petit Fer à Cheval where I order steak tartare, silently toast my grandma and thank God I don't have to renew the damn thing for another year.
Back at Wepler, the breeze blowing through an open door shook me from my reverie – Paris city air sweetened with the sea salt it picked up blowing across the oysters kept outside.
Inside, three men who have ordered two coffees look up as the waiter arrives.
Garcon smiled, placing the coffee on the table and slipping a chocolate to the guy who didn't need any more caffeine.
In this temple of consumption, the thought of it all made the conversation better, made me hungrier.
We ordered soup, my friends agreed to split a chèvre chaud, but they stared at me funny when I ordered a pig knuckle.
I raised a silent toast to grandma and dug in. 
Brasserie Wepler 14, Place de Clichy 75018 Paris +33 1 42 93 70 84 Web Map
Food and travel writer and photographer Joe Ray is the author of the blog Eating The Motherland and contributes to The Boston Globe's travel blog, Globe-trotting.