By Joe Ray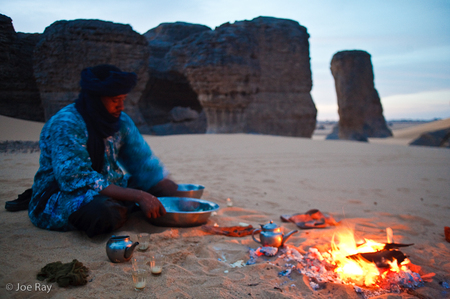 Under the stars in the Algerian Sahara, our guides make bread in the sand.
One kneads dough in a mixing bowl while another prepares the fire. When the cinders are ready, Salah moves them to the side, and creates a saucer-shaped crater in the sand into which goes the flat round of dough. The whole thing is covered with the cinders and left to cook.
Half an hour later, they again move the cinders and lo, the bread.
Curiously, the sand doesn't really stick – there's a thickness to the crust that doesn't allow it to grab and any little bits disappear with a quick rinse of water.
We're so far from the rest of the world that at night, there's no light pollution. Warm bread under the stars.
Food and travel writer and photographer Joe Ray is the author of the blog Eating The Motherland and contributes to The Boston Globe's travel blog, Globe-trotting.