Paris,
by Joe Ray 
An old standby is a new favorite.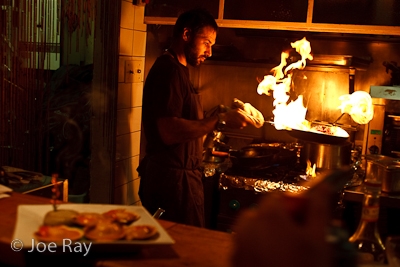 I'd been to L'Escargot, tucked away in the far reaches of Belleville, years ago when Canadian singer Sarah Slean and her entourage were in town and they turned to me for a place to go.
It's been a bit too long to remember what we ate, but my favorite moment was when the diva's dad turned to me and said, "That was the best meal we've had in France."
Recently, I ate at L'Escargot a couple times in a two-week span – enough to notice that chef Frederic Valade had the guts to propose gizzards as a bar snack. Earning more points, I also learned he runs a triperie (hard-core butcher shop) down the street. … but I'm putting the cart in front of the horse.
Like Mehdi As-Siyad, what Valade is doing is some of my favorite stuff in Paris right now – young chefs, making some seriously good food and having fun.
One night, Valade walked out into the open kitchen in a pink wig, then giant sunglasses, then a cabaret-style sequined hat, all of which would have made him look really dumb if the food wasn't good. Instead, his duck confît is among the best in town – crunchy on the outside, melting on the inside and packed with flavor. Add to the plate a little tower of mashed potatoes with truffle oil and a salad with a vinaigrette that keeps your taste buds awake and - Petit Fer A Cheval take note - you've got something comforting, luxurious and well-priced.
Almost every dish at L'Escargot is this good – a venison steak with winter vegetables, braised lamb shank that bursts with flavor, incredibly tender kangaroo (!) filet and 'beef bo bun' – a bowl of bite-sized seared flank steak in a lemongrass sauce. Dessert? The only problem with the crispy crepe (think: thin cousin of a sugar cone, broken up, and shaped into a little puck of goodness nestled under a dense cloud of whipped cream) was that I got a little aggressive with my spoon and launched half of the dish onto the table and my lap. I ate it anyway.
L'Escargot 50, rue de La Villette 75019 Paris Tel +33 1 42 06 03 96  Map
Food and travel writer and photographer Joe Ray is the author of the blog Eating The Motherlandand contributes to The Boston Globe's travel blog, Globe-trotting.