Barcelona
By Joe Ray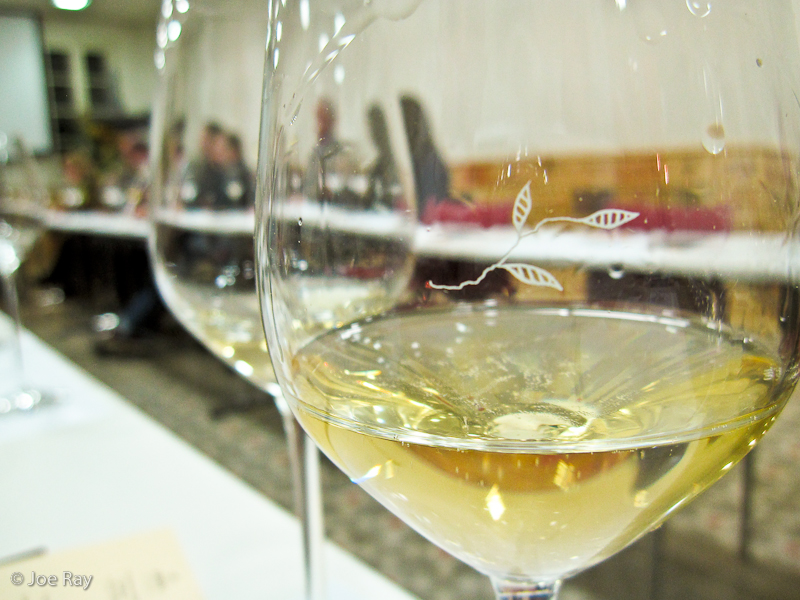 I wheedled my way into a Krug Champagne tasting in Barcelona the other day – my birthday no less! - getting a chance to sip on some pretty fancy stuff. I can't say buying a bottle of their bubbly is the first thing I'd do with a few extra c-notes, but I liked LVMH (Krug's parent company) enologist Xavier Montclús' back-to-basics, grapes-to-glass approach to the tasting, even in a room full of food-industry pros that included sommeliers and Michelin-starred chefs.
A few highlights:
THE GRAPES: Montclús' metaphors to understand part of each grape's role in Champagne…
Pinot Noir – "The backbone and the muscles that hold up the wine" – anti-flab, if you will.
Pinot Meunier – "The bones which give fruit flavors like pear, peach and quince…remember that the best taste in meat is closest to the bone."
Chardonnay – "The skin." The skin? Eww. "Like on a peach. It contributes smell (honey, for one) and golden color." Mmm.
PRESENTATION:
- The Cork - "Loosen the cage that holds the cork, but keep it on top of the bottle, with your hand on it at all times," he says, reminding me of a moment when I was a waiter on a San Francisco Bay dinner cruise (dressed like Gopher from "The Love Boat," no less) and put a quarter-inch dent in a ceiling tile with a cork before beaning a woman on the top of her head. Hoo, dear, I couldn't stop laughing. "Hold the cage & cork in one hand and turn the bottle with the other."
- The Bucket – "Fill it three-quarters of the way with ice, then halfway up with water." A bottle that hasn't been cooled should be kept on ice ½ hour, but not more. "Minimum temperature should be five degrees Celsius (41 F) – lower than that just brings out the defects."
- The Pour – "Never serve more than half a flute." Bottoms up!
Food and travel writer and photographer Joe Ray is the author of the blog Eating The Motherland and contributes to The Boston Globe's travel blog, Globe-trotting