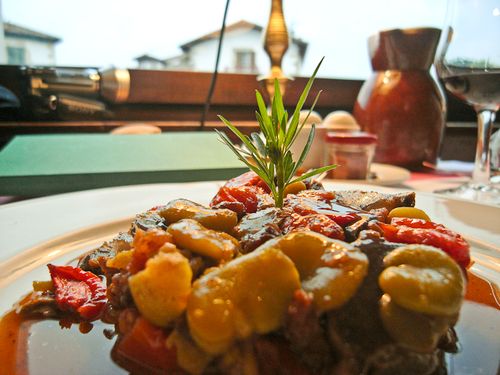 Without doubt the highlight of this little trip.  The village has a disarming charm : "le Fronton" a wall use for playing basque pelota, the terraces, the geraniums.  It's true that in the summer it's gets rather crowded.  But once the night rolls around, it's idyllic. 
The hotel is ideally situated and offers beautiful terraces.  As for the food, it won't have you doing somersaults, but you'll find that will win you over immediately: the spirit of a beautiful 16th century Basque residence that's passed from generation to generation. 
It's the son of Jean Baptiste Fagoaga who welcomes you and presents you with a wine list that's rather surprising, with bargain prices (a Sociando Mallet 2001 for 50 euros).  Nice dishes like the salad with lima beans and duck gizzards, then rabbit with honey sauce, and to finish off a curdled sheep's milk crème brûlée, all in a menu at an unbeatable 23 euros.
Lovely rooms from 80 euros (ask for those that face the rear of the building, where it's calm).  Exquisite breakfast, this is Basque country at its finest.
Bourg, 64310 Sare (05.59.54.20.46). www.arraya.com Map