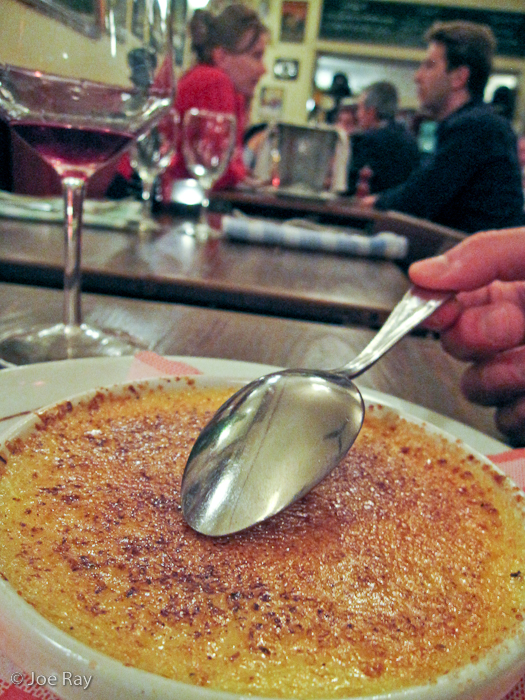 By Joe Ray
PARIS
Lots of little things going on Chez Ramulaud.
What I love about Paris is that I lived on and off for a year near a place this good and never knew it was there. Then again, I lived even closer to the Bistrot Paul Bert, which got all the little things right and costs the same; Ramulaud is more of a mixed bag.
Walk in and there's a funny feeling like the place has both been there for a while and that they've just moved in because the walls are too white and the lights too bright. Appetizers are good ideas that just miss the mark – a tartare of veal, gambas and avocados has lots of fun texture but wades in mayonnaise. 'Chips' of pigs' feet and ears sound fantastic if you're into that sort of thing, but this thin, they just taste greasy. Vegetable preparations are well thought-out yet the raw products seem like they're from the cheap grocery store down the street.
From here on out, however, the problems are erased. Sautéed slices of andouillette atop a salad are crowned with a poached egg. There's great play between the offal, the mustard-y vinaigrette and hidden lardons and lightly caramelized red onions. Lamb chops are dredged in Parmesan and pink on the inside. A beautiful Fleurie dispatches doubts about Beaujolais.
Dessert sums it up: a chocolate cake drools salted caramel, the underside just slightly (and wonderfully) scorched; my companion starts moaning with pleasure. Meanwhile, I can't figure out why the top of my otherwise tasty crème brulée isn't scorched enough. At the next table, someone has ordered a skimpy-looking Paris-Brest, Paul Bert's incredible signature dessert.
I enjoyed the meal more than it sounds, but can't think of a better way to remind customers of the better place to eat.
Chez Ramulaud - MAP
269 rue Faubourg St Antoine
75011 PARIS
www.chez-ramulaud.com
+33 (0)1 43 72 23 29
Food and travel writer and photographer Joe Ray is the author of the blog Eating The Motherland and contributes to The Boston Globe's travel blog, Globe-trotting.