PARIS
By Joe Ray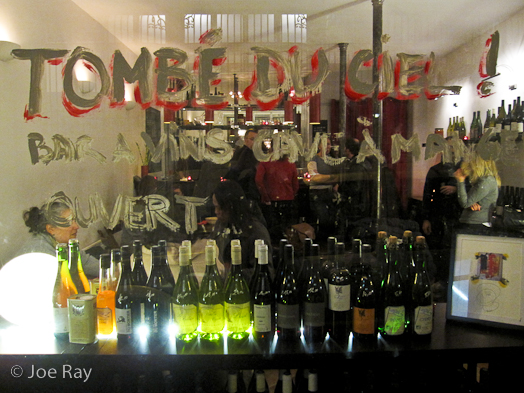 I rode right right past the opening night festivies at Tombé du Ciel. At first I chalked it up to the bliss of zooming around Paris on my brand-new-to-me vintage Peugeot 10-speed, but I backtracked to #7 on the tiny Rue d'Enghien. There it was, lost among the cheap grec sandwich restaurants and coiffeurs, the 'PHONEBOUTIK' sign of a previous owner still gracing the facade.
Just below, a large glass window glistened with the prerequisite warmth, barely obscuring a healthy crowd and a few dozen bottles of natural production wine. It looked as indigenous to this part of town as... as... um... hence the name.
I wish them well. If clients find the place, just two blocks north of the Boulevard de Bonne Nouvelle in the 10th, (I found out about it on a tip from our crack translator, Mariette) they'll come back. This is
La Cremerie's
fun and gritty cousin. The wines are great, with double digits of by-the-glass options ranging from about 2.50 to 5 euros. There are some whites and fizzy options that will leave you drooling with glee, served with perfect food for nibbling, particularly considering the kitchen is still under construction. (The kitchen will open 'soon' and there will be a plat du jour or two.)
The showstopper was a tarama of sea urchin, served with bread and a slice of lemon. You really need nothing else with a product this well-sourced.
The ambience may be the best part. People leave their belongings wherever and walk away, trusting they'll be there a couple hours later when they leave, and at the end of the night, everyone crowds around the bar and I half expect them to break into a well-deserved song.
With wine, count on around ten euros if you're feeling peckish. More if you're hungry.
Tombé du Ciel
MAP
7 Rue d'Enghien
75010
M: Strasbourg St. Denis
Food and travel writer and photographer Joe Ray is the author of the blog Eating The Motherland and contributes to The Boston Globe's travel blog, Globe-trotting.